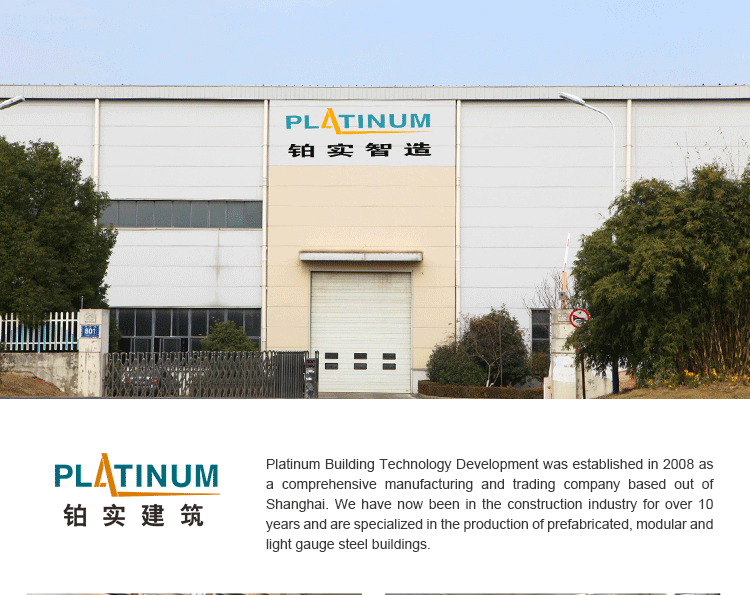 There are many factors to consider for a suitable prefabricated home manufacturer, so what do consumers need to start from?
The first is the age of the prefabricated home manufacturer, or the year in which the business was founded. Some people think that in today's rapidly changing world and the rapid development of e-commerce, it seems that a long history of an enterprise is no longer an advantage of an enterprise. However, prefabricated housing is a serious and long-term product/industry, which is different from FMCG. For FMCG companies, they chase the current trends and trends, and their products involve mostly small amounts of money.
Prefabricated housing itself is part of real estate, and prefabricated this construction method is a high-tech, a new construction method, so its industry entry threshold is very high, not just any one person or team can prop up a prefabricated building business.
It is not easy to maintain a precast construction company, which shows that age is a very important factor in selecting a suitable precast construction company. On the other hand, the older a precast construction company is, the more it shows its strong stability and adaptability in the market.
Platinum Building Technology Development Inc. . was founded in 2008, from the initial small team continues to expand, in more than a decade, our office and factory has been more than twice the size of the original. The Platinum Building is located in Shanghai, an international city, in order to be able to face more foreign customers. Boshi construction, which is located near the Shanghai Hongqiao International Airport, is very convenient for receiving clients. Since 2008, Platinum company has continuously expanded its strength, and has gradually perfected its business department, Marketing Department, Quotation Department, Purchasing Department, Technical Department, Finance Department and Factory Department, companies with a clear division of labor.
From 2008 to now, PLATINUM construction constantly adapt to the changes of the market, bigger and stronger. Platinum construction with its own development strongly tell customers, choose platinum construction, is a wise decision for you.
The second thing customers need to consider is certificates. Prefabricated housing is different from other products, its safety and seriousness requirements are extremely high. Because it involves people's living and personal safety. Different countries have different standards for building and materials. Although made in China, Platinum provides prefabricated houses that meet its national standards.
So far, platinum building has received ISO, Awa and UL certificates. For different materials, some countries will have different certificate requirements, platinum building will also actively cooperate with the provision of relevant certificates to facilitate the approval of customers in their countries.
Another important factor for clients to consider the prefab house manufacturer is the richness of the project. A good prefabricated house manufacturer must have extensive experience in exporting to various countries, so that they can know what problems customers usually encounter, as well as some after-sales problems that often occur.
Founded in 2008, platinum has completed nearly 1,000 projects, covering a variety of types and uses of prefabricated houses, exported to nearly 100 countries. Our Directory is a comprehensive record of the specific circumstances of each project, you are very welcome to inquire through the mail or telephone, get a free catalog.
When choosing a prefabricated home builder, you can consider the dimensions of establishment, certification, and project experience. To a large extent, these dimensions can already help you select a group of quality prefabricated housing suppliers. Our website will be updated in the near future as to how to proceed with the selection process. Please bookmark our website for more information on prefabricated housing.